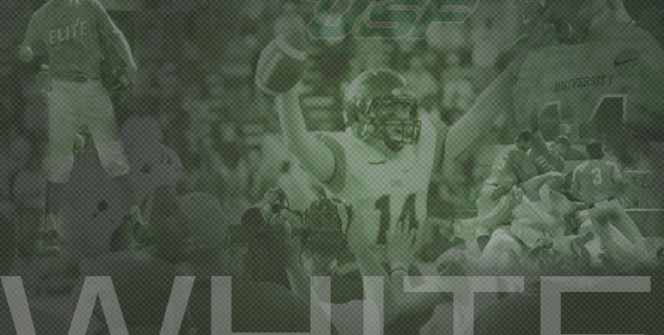 This isn't your normal Elite Squad college commitment story. Heck, 2013 RHP/QB Michael White hasn't had a normal path to a college scholarship from what we are used to talking about and he's experienced a two year run most kids dont….
Michael White has been with the Elite Squad since he was a freshman (15u team). He's also been waiting patiently on his University School Football team since he was a freshman to be the starting Quarterback for his high school that he attended since he was in six grade. With the Elite Squad, Michael started off as a RHP/1B the first two years in which he was a huge part of the National Championship run in East Cobb for the 16u team in 2011. In 2012, now a senior, it was Michael's turn to be the starting QB. Juggling going to all these different football camps and 7 on 7 football tournaments and playing on a high profile travel baseball team was a challenge not only to him, but poor mom and dad didn't see much of their own home that summer taking him all over the country so that he can experience and compete at the highest levels of both sports.
In his final year with the Elite Squad Michael was really limited to just pitching for us since he was in and out because of football events. None the less he responded in typical Mike White fashion and something that we have grown to expect from him pitching in big game after big game. This time it around it was no bigger than in the Perfect Game World Series in Peoria, AZ. Mike was starting in a must win game for us vs the Dallas Patriots. We win, we solidify a birth to the final four. We lose, we might be going home early. Needless to say Michael delivered a masterful performance pitching 6 innings of 1 hit ball and not allowing a run. As we mentioned, we became accustomed to seing this from Michael as he was huge not only in the WWBA National Championship run the summer before, but also pitched a complete game shutout earlier that summer in the Championship game of the Team USA Junior Olympics vs Team Elite from GA and led his team to a gold medal.
Moving forward to this fall. Michael obviously couldn't play in the fall due to his football obligations at school. So he focused on his opportunity as a quarterback and didn't let the pressure of committing for another sport get in his way. His first start as a QB was on National Television ESPN network, no pressure right? Michael lead his team to a huge victory over a very good Trotwood -Madison team from Ohio. Things would only get better from there on.
On December 8th, while on the field during the Elite Squad Winter Camp Richie Palmer got a text from Michael White senior (Michaels dad): "We did it, we won the state title…..and Michael committed to USF." Richie Palmer and Mike White's families have been friends for well over 7 years and to get this news was something hard for him to describe because he was so happy for the White family. Mike White is also mainly responsible for getting Richie his first head coaching opportunity at the young age of 24 at University School:
" I got the text right in the middle of our camp. It was already a great day because I was watching so much talent at our event all day, but to get that text just topped it off. Mike and I keep in touch pretty frequently and we knew something was going to happen with the recent talks, we just didn't know when and where . I told Mike several times, I'm not a football coach but I've seen him play and he can really play!!! Something has to happen!!! So to finally hear its official and one of your players was able to achieve something great makes everything we do as coaches worth it. I think our biggest jobs as coaches is not just to try and make our players successful baseball players, but make them better people, better husbands and fathers one day. To think maybe I played a small part in any kids life, let alone Michael's…that's what its about."
If you ask Michael we are pretty sure he will attribute a lot of the things he's learned throughout baseball and being on those big stages, competing for the ultimate prize at that moment in a kids life that it has translated into the success he's had on the football field. We are also pretty sure he gets his toughness, composure and smarts on the mound from being a quarterback as well. Don't believe us take a look at what Michael has been able to accomplish over the past two years:
16u Team USA Junior Olympic Gold Medalist '11
16u Perfect Game WWBA National Champion (East Cobb) '11
17u Perfect Game World Series Champions '12
3A Football State Championship
That's 3 rings, and a gold medal  in a two year span…….Oh yeah, he also got named 2A-5A OFFENSIVE PLAYER OF THE YEAR!( Check his stats out here)
Thats one hell of a run!
At this moment in time he is unsure if he is going to try and play both sports in college because of the demand it takes to be a Quaterback at the Divison 1 level but he's got plenty of time to make up his mind.
Congratulations to Michael and the entire White family on what has been an amazing run and accomplishment!
*Mike White is the 2nd player from Elite Squad to receive a football scholarship. Jake Ruddock is currently a QB at the University of Iowa.